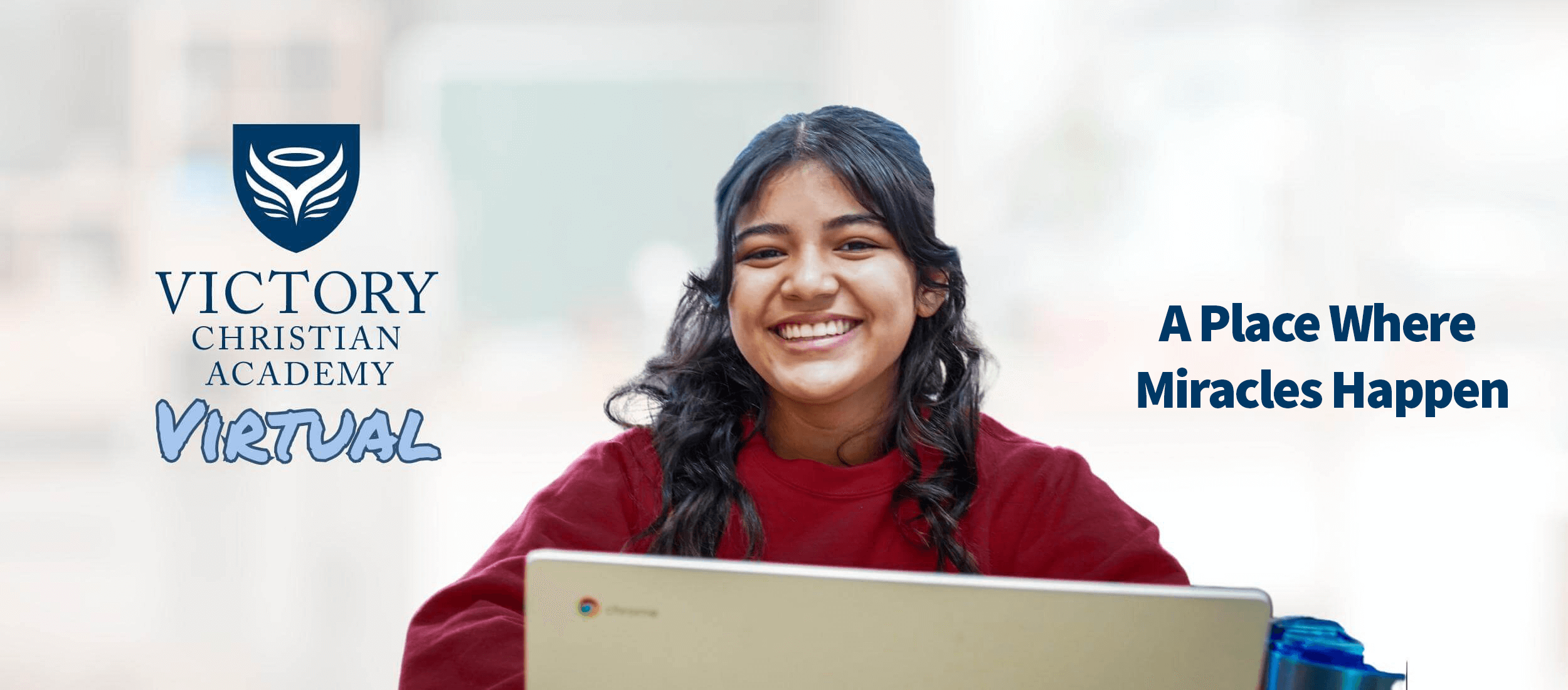 Christian Online & Blended Learning
Christ-centered instructional program from an accredited traditional K-12 academy-in the comfort and safety of your home.
Full-time and a la carte enrollment options

Parental Choice vouchers accepted
Payment plans for private-pay students

Scholarships available
Uncompromising Christian Values: 
For families seeking to ensure that their children's educational experience aligns with their Christian and family values, VCA's virtual campus provides an unwavering commitment to faith-based education and navigational support in an ever-changing secular environment. The curriculum and faith formation is infused with Christian principles, fostering an environment where students can develop a strong moral compass, cultivate Biblical knowledge, and grow in their faith—even in the midst of the current hostile conditions.
Flexibility and Convenience:
Flexibility and Convenience: In an increasingly busy and fast-paced world, the flexibility and convenience offered by VCA's virtual campus are highly appealing. Students can access their courses and learning materials from anywhere, at any time, allowing them to create a study schedule that fits their individual needs. This flexibility accommodates various lifestyles, including students involved in extracurricular activities or those with unique circumstances that require a more flexible approach to education.
Blended In-person and Online Options:
VCA understands that some families may prefer a combination of in-person and online learning. By offering blended options, parents can customize their child's education to strike the right balance between traditional classroom instruction and the convenience and flexibility of online coursework. This allows families to adapt their educational approach to fit their individual needs and circumstances. As well as participate in faith-based activities, entrepreneurial opportunities, and team sports!
Support for Homeschool Families:
Support for Homeschool Families: Many homeschooling families are seeking supplemental resources or full-time support to enhance their children's education. VCA's virtual campus can provide homeschooling families with a comprehensive online curriculum aligned with Christian values, offering a uniquely structured and academically rigorous program that integrates seamlessly with their homeschooling efforts.
Certified and Dedicated Teachers:
VCA's virtual campus employs certified teachers who are experienced in online instruction and dedicated to supporting the academic growth and spiritual development of their students. These educators are passionate about their faith and subject matter, providing personalized attention, guidance, and mentoring to help students thrive academically and spiritually.
Comprehensive Support Services:
VCA's virtual campus understands the importance of comprehensive support services for student success. The online platform offers a range of resources such as tutoring, academic counseling, and technical support to ensure that students receive the assistance they need. Additionally, the virtual campus fosters a sense of community through virtual activities and discussion forums, allowing students to interact and collaborate with their peers, fostering a sense of belonging and engagement.
Academic-Faith Coach (AFC):
The Academic Faith Coach provides personalized academic and spiritual support. The AFC collaborates with parents or legal guardians to create tailored learning plans, ensuring alignment with family values. They offer accountability, motivation, and mentorship to foster a well-rounded educational experience. AFC's focuses on the development of the whole person, encouraging extracurricular activities and interests. Through close collaboration, AFC's create a successful virtual learning journey that combines academic excellence, spiritual growth, and individualized support.
Dual Enrollment Opportunities:
VCA's virtual campus is an excellent choice for high school students who wish to get ahead in college by participating in dual enrollment programs. Through partnerships with accredited colleges and universities, VCA can offer advanced courses that allow students to earn college credits while still in high school. This advantage not only accelerates their academic journey but also prepares them for the rigors of higher education.
Exciting and Comprehensive Curriculum:
At VCA-V, students have access to a wide range of exceptional courses that cater to their educational interests and goals. The curriculum encompasses various subjects, ensuring a well-rounded education rooted in Christian values. Students can choose from a variety of subjects, such as: Algebra, Geometry, Pre Calculus, Calculus; Composition and Grammar, World Literature, American Literature, British Literature, Christian Literature, Creative Writing; Earth Science, Biology, Anatomy, Chemistry, Physics, Sustainability & EcoSystems; World History, American History, Civics (TCI), Geography; Spanish, French, Mandarin; Media Arts, Bible Classes (various), Life Prep, MC3 – Skill Trades, Medical Terminology. And much more!
With such a diverse range of courses available, students can tailor their educational journey to their interests, academic pursuits, and future career aspirations. Whether they are exploring advanced math concepts, immersing themselves in literature, conducting scientific experiments, or studying historical events, VCA's virtual campus curriculum ensures a comprehensive selection to meet the unique needs and passions of each student.
Through engaging and well-structured courses, VCA's virtual campus ensures that students receive a high-quality education that fosters intellectual growth and spiritual development. Christian values are integrated throughout the curriculum and learning process, allowing students to gain a deeper understanding of how their faith intersects with various academic disciplines that may not reflect Biblical principles. This approach promotes character development and cultivates a Christ-centered worldview.
Victory Christian Academy's virtual campus is an exceptional choice for families seeking a faith-based education that combines academic excellence, Christian values, and the flexibility of online learning. Whether families desire blended in-person and online options, support for homeschooling efforts, dual enrollment opportunities, or a strong alignment of their educational experience with their Christian values, VCA's virtual campus provides a compelling solution. With a dedicated faculty, a robust curriculum, and a commitment to holistic student support, VCA's virtual campus is poised to deliver a transformative educational experience that prepares students for both academic success and a lifetime of living out their faith.
The Best for Your Child (In All Areas)
Victory Christian Academy—Virtual (VCA-V) is the online option to our traditional Christian-based (in-person) academy that provides a comprehensive educational program dedicated to a holistic approach to student formation—Mind, Body, and Spirit—virtually.
We offer multiple options:
Interactive (synchronous) live classes supplemented by substantial offline coursework.
Asynchronous (non-interactive) approach to cater to the demands and routines of our families. (most popular)
Blended options of in-person and virtual programming—including extracurricular activities and sports!
VCA-V partners with the most experienced online educational institution in Wisconsin—Wisconsin Virtual School (WVS). WVS is not an actual school, but instead a third-party provider of excellent online learning platforms, curriculum, and teaching support staff. This partnership allows VCA-V to offer students and families the maximum flexibility and access to more educational options than most other schools you can choose from.
Most importantly, VCA-V is dedicated to making sure that Christ is at the center of all our student's online interactions/activity and is the foundation of our academic pursuits. We accomplish this by assigning every VCA-V student and family with an Academic/Faith coach. This coach will facilitate the general interactions between the students and our WVS partners, as well as help the students with their academic progress and faith formation according to their parents' requests. All in order to ensure our families' Christian values are respected and at the center of our attention.
We want to invite you to enroll today! Those who wish to apply using the Wisconsin Parental Choice Program to pay for tuition must apply immediately in order to meet the April 20th deadline. If you wait until April 20th to start the process, you will be too late. The application process takes a few days.